Agios Ioannis Village in Pelion
---
Agios Ioannis is a very famous summer resort in Pelion, and has visitors from both all over Greece and the world coming to visit. Quite far from Volos, it is a beautiful village by the sea with a very large and beautiful beach with white pebbles that resemble pearls.
Agios Ioannis is the centre of fun and entertainment for the northeast side of Pelion, and has a full tourist infrastructure. From early in the morning to the early hours of the next day, there is always something that you can do in this village.
When returning home, early in the morning after a long night out, you can witness the beautiful sunrise, where the sun slowly rises from, what seems to be, behind the sea.
The beach of Agios Ioannis is the perfect place for swimming. It has been awarded the "Blue Flag" by the E.U, which recognises exceptionally clean and beautiful beaches. Other nice beaches include Papa Nero, in the south, with its gold sand and the beach of Plakas in the north.
For your enjoyment you can rent boats, canoes or sea-bicycles. For the bigger day trip, larger boats are also available. The country chapels of Ai-Yiorgi, Ai-Yiannaki and the monastery of Ai-Yianni are very nice places to visit.
In the main square you can enjoy traditional tastes with local wine or tsipouro at the tavernas and restaurants. The surrounding trees provide a cool and relaxing shade in the summer from the sun.
During the summer there are many cultural shows that take place. You can visit the museum that houses a large collection of traditional clothes and local objects and findings. For swimming, you can go to the beautiful beaches of Agios Yiannis, Plaka and Papa Nero.
Accommodation in Agios Ioannis
Corali Guesthouse is situated just 20 meters from the sea and offers a wonderful selection of comfortable air conditioned rooms for your holidays in Pelion.
Located right next to the beach of Papa Nero, Hostel Katerina Apartments - Fotopoulos offer a unique choice for comfortable and quality accommodation for your Pelion holidays.
Image Gallery
Agios Ioannis Overview
Distance from: Volos 42km | Tsagarada 11km | Zagora 24km | Volos Airport 80km
Accommodation: Lots
Places to Eat: Lots
Cafe Bars: Lots
Agios Ioannis Map
Click on the map image below to load the Google map showing the location of Agios Ioannis.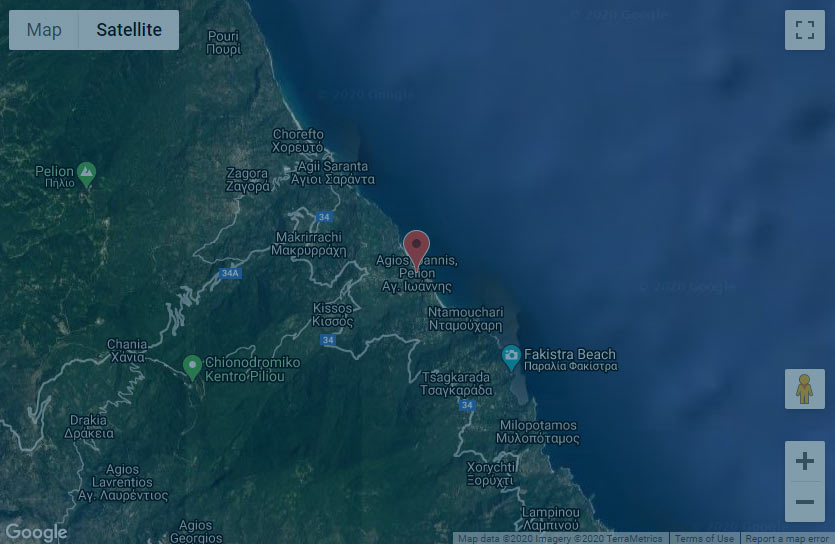 Agios Ioannis Useful Telephone Numbers
Agios Ioannis - Area Code 24260

Municipality - 24260 49238
Police - 24260 49222
Surgery - 24260 31210
Post Office - 24260 49215
Medical Centre - 24260 22222
Tourist Police - 24210 72421