Damouhari Village in Pelion
---
Damouhari is a hamlet by the sea and is 65km from Volos. Its natural port is very beautiful and here you can see the old Venetian houses and a Byzantine castle. It is here that you will also meet the beauty of peace, tranquillity, clean blue sea and green scenery.
You can take a walk on the cobble-stoned paths, past old houses in the hamlet, or for a longer walk, you can follow the path that connects Damouhari with Mouresi and Tsagarada. You must try to visit the chapel of Agios Nicolos, with its beautiful painted icons by I.Pagonis.
The beach here is beautiful with pebbles. Along the side of the beach you will find fish tavernas, restaurants and bars, all with a perfect view of the sea.
For nightlife, you can go to Agios Ioannis, where you will find another selection of fish tavernas, barbeques, restaurants and bars. You can be up all night having fun here.
Damouhari Overview
Distance from: Volos 48km | Mouresi 5km | Tsagarada 6km | Volos Airport 95km
Accommodation: Some
Places to Eat: Lots
Cafe Bars: Few

Damouhari Map
Click on the map image below to load the Google map showing the location of Damouhari.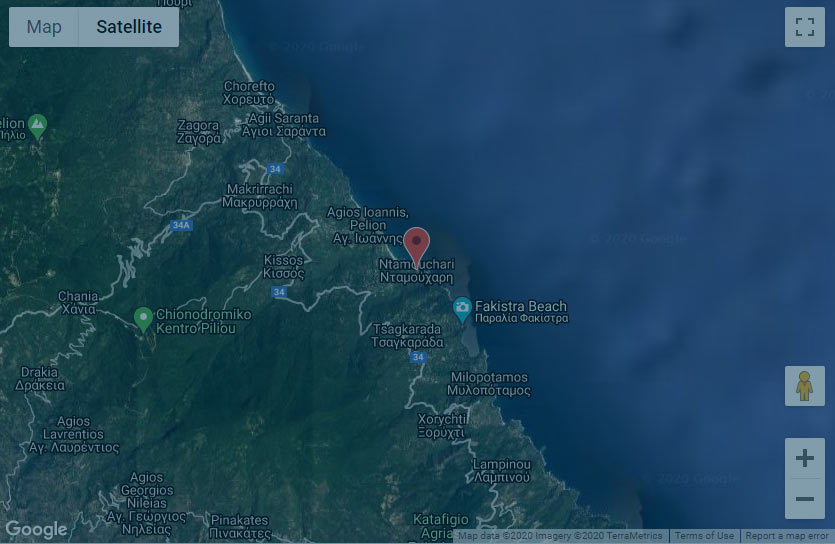 Damouhari Useful Telephone Numbers
Damouhari - Area Code 24260

Municipality - 24260 49238
Police - 24260 49222
Surgery - 24260 49208
Post Office - 24260 49238