Hania Village in Pelion
---
This is a mountainous hamlet at an altitude of 1200m, situated in a forest of pine and beech trees. Hania is 26km from Volos and 13km from Portaria. Hania is actually the passage from the east to the west of Pelion.
In the old days, travellers and traders used to stop for the night at the hostels in the village, and from this was derived the name Hania, which means hostels.
This area is perfect for winter sports at the ski centre "Agriolefkes", which is just 2km from here. During the summer, Hania is also very cool and not as hot as some of the coastal villages in Pelion.
Here you can find rooms to let, tavernas and restaurants. You must try the traditional bean soup and "Spentzofai", which are sausages with vegetables.
Image Gallery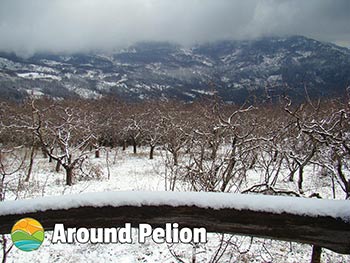 Hania Overview
Distance from: Volos 23km | Tsagarada 22km | Portaria 12km | Volos Airport 58km
Altitude: 1190m
Nearest Beach: 19km
Accommodation: Few
Places to Eat: Few
Cafe Bars: Few
Hania Useful Telephone Numbers
Hania - Area Code 24280

Municipality - 24280 92352
Police - 24280 99105
Surgery - 24280 99106
Ski Centre Lift - 24280 73719
Post Office - 99104