Kala Nera Village in Pelion
---
Kala Nera is a beautiful sea resort on the Pagasitic Gulf, just 18km from Volos. Here you will find lodgings, restaurants, coffee places and bars bustling with people, especially in the summer.
The village is very rich in vegetation and plain and oak trees go all the way down to the beach. At the south point of the beach, the stream Belegrino flows, which is the natural boundary between Kala Nera and the small village of Koropi.
The sea is very clean and has been honoured with the "Blue Flag", given out by the E.U for exceptionally clean and beautiful beaches. For swimming, you can also try some of the other beaches just outside of the village. Boufa is one choice, which is the biggest beach in the Pagasitic Gulf, situated in Koropi.
Another enjoyable day trip from here is to Ano Lehonia, to which you can reach by taking the small train "Moutzouris-Smudgy". You will travel through stunning scenery and over stone bridges and green hills and end up in Milies. Milies is a very beautiful and traditional village, with many old houses and beautiful paths.
During the summer, festivities and cultural shows take place, with the biggest being the festival of Panagia (The Holy Mother) on August 15th. Free food and traditional music and dance take place here.
Accommodation in Kala Nera
The Akrogiali Hotel is perfectly located for holidays close to the sea. All rooms have TV, fridge and central heating.
Dinos Rooms offer quality and comfortable rooms to let and accommodation in our beautiful facilities in Pelion.
The Marianthi Hotel offers a wonderful selection of comfortable and relaxing accommodation at their hotel in the resort of Kala Nera.
The Palirria Hotel offer an excellent selection of comfortable rooms and accommodation and great facilities including the large swimming pool.
The Rodia Hotel in Kala Nera, offers a wonderful choice for quality and comfortable accommodation in a beautiful part of the village.
Entertainment in Kala Nera
NAFTILOS COFFEE HOUSE
In the popular coastal resort of Kala Nera, join us for a coffee or drink, in a friendly and relaxing atmosphere, and unwind for the day.
PAGASITIKOS TAVERNA
Join us for a tasty and freshly prepared meal, at our delightful restaurant and taverna, right next to the sea in Kala Nera village.
Image Gallery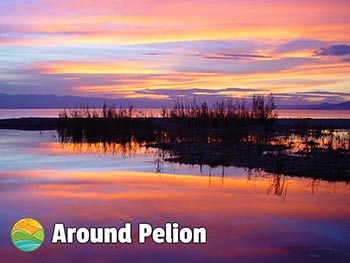 Kala Nera Overview
Distance from: Volos 18km | Milies 9km | Afissos 10km | Volos Airport 53km
Accommodation: Lots
Places to Eat: Lots
Cafe Bars: Lots
Other Facilities: Supermarket, ATM, Bakers, Petrol Station
Kala Nera Map
Click on the map image below to load the Google map showing the location of Kala Nera.
Kala Nera Useful Telephone Numbers
Kala Nera - Area Code 24230

Municipality - 24230 86890
Police - 24230 86222
Surgery - 24230 86666
Boat Cruises - 24220 91273
Volos Hospital - 24210 27531