Milies Village in Pelion
---
This is a traditional mountainous village at an altitude of 400m and 28km from Volos. The combination of natural beauty and tourist development result in Milies being a perfect place for vacations.
There is also the obvious historical past of the village, with traditional Pelion architecture. You will walk along the cobble-stoned paths and see the old houses, mansions and spring water fountains.
Milies is the hometown of Antimos Gorzis and Gregory Koustanta, who are two very important men in Greek history. They founded the school "Yihis Akos" in 1814.
You can visit the church of Panmegiston Taxiarhon, built in 1741, in the village square. It was from here that the revolution against the Turks started in May 1821, under the leadership of Anthimos Gazis.
You must visit the rail station. It is here that the steam train "Moutzouris-Smudgy" reaches its destination. The Italian engineer Jiorgio de Kirico developed this project in 1895, and created one of the most beautiful and difficult rail lines, with the help of local workmen.
The original length of the rails was 29km from Volos. Today however, only 16km is still in use, and runs from Lehonia to Milies. From the train you will find a truly magical view, where you will see two, three and four arched bridges, which are surrounded by a stunning green background.
During the summer, many festivals take place, such as "Milies Night" in the middle of August and the "Pear Night" at the end of August. A large festival also takes place on the name day of Agia Paraskevi on July 25th to 27th, with traditional music and dance.
If you are looking for something lively you can visit the village Kala Nera, where you will find restaurants, fish tavernas and bars. For swimming you can drive 8km and you will find the beautiful sandy beach of Koropi (Boufa). It is the biggest beach on the Pagasitic gulf with crystal clear waters.
Accommodation in Milies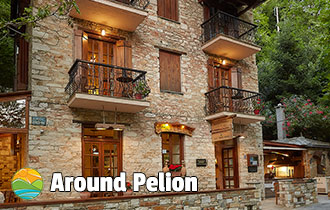 PALIOS STATHMOS HOTEL
At the Palios Stathmos (Old Station) Hotel you will find a great selection of comfortable and quality accommodation in a stunning location.
Entertainment in Milies
OLD STATION RESTAURANT
Come and join us for a drink or tasty homecooked meal here at the Old Station in Milies, and relax in a very peaceful and pretty environment.
Image Gallery
Milies Overview
Distance from: Volos 28km | Kala Nera 9km | Vizitsa 2km | Volos Airport 59km
Altitude: 400m
Nearest Beach: 9km
Accommodation: Lots
Places to Eat: Lots
Cafe Bars: Few
Milies Useful Telephone Numbers
Milies - Area Code 24230

Municipality - 24230 86204
Police - 24230 86222
Surgery - 24230 86666
Post Office - 24230 86210
Library - 24230 86260