Milina Village in Pelion
---
This is a beautiful village by the sea 49km from Volos and 7km from Lafkos. It has a wonderful view of the Pagasitic Gulf. Milina is a very impressive village. You can find quite picturesque beaches and bays with crystal clean waters.
A few kilometres out of the village, on the top of a hill, you can see the ruins of the ancient city Olizon.
You must visit the monastery of Agioi Saranata on the island of Alatas, and the monastery of Zoothohou Pigis on the small island of Prassouthas. The only way to get to this island is to rent a boat and travel by yourself.
Here you will find untouched, sandy beaches and of course, peace and quite. If you have a boat, this area is like heaven with numerous small deserted islands and their quite sandy beaches and hidden caves.
Along the beach you can find tavernas, restaurants, bars, coffee places and fish tavernas.
For those summer nights you can also find a disco. The nightlife of Milina is interesting, especially during the summer season. Many festivals take place with traditional Greek music and dance.
A beautiful day trip would be to visit the southern peninsula of Pelion, where you will find the mountainous village Trikeri (Panagias Island) and the seashore hamlet of Kottes. You will have such an enjoyable and relaxing time, you will never want to leave.
Accommodation in Milina
At Christalis Apartments in Milina, you will find a great choice of comfortable apartments for your holidays in this beautiful resort.
The Ikosimo Hotel offers a great selection of quality and comfortable accommodation for your holidays here in Pelion.
Located in a beautiful part of Milina you will find the charming Milina Apartments, offering a great selection of accommodation with a swimming pool.
A great selection of beautifully furnished and very comfortable studios with a swimming pool, located in a perfect position in the resort of Milina.
At Violeta you will find an excellent selection of comfortable studios and apartments for your stay in a beautiful part of Pelion.
Travel Services in Milina
MILINA HOLIDAYS
Milina Holidays offer a range of travel and holiday services including flights, car hire, accommodation and excursions all around Pelion.
Image Gallery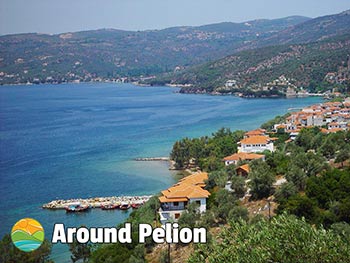 Milina Overview
Distance from: Volos 49km | Argalasti 10km | Lafkos 6km | Volos Airport 82km
Accommodation: Some
Places to Eat: Lots
Cafe Bars: Few
Other Facilities: Pharmacy, Bakers
Milina Useful Telephone Numbers
Milina - Area Code 24230

Municipality - 24230 65065 Police - 24230 54236 Surgery - 24230 65275 Medical Centre - 24230 54611