Platanias Village in Pelion
---
This is a small fishing and port-serving village for the village Promiri. It is located 60km from Volos. Platanias is an ideal place for pleasant vacations.
It is built along a lovely sandy beach with beautiful waters. The beach here is one of the most beautiful in the southern region of Pelion, and attracts visitors from all over the peninsula during the hot summer months.
There is also the popular sandy beach of Mikro, the neighbouring village of Platanias, which is just a short distance away via a path along the rocks.
Along the port you will find a lot of fish tavernas where you can enjoy a delicious meal and drink some of the wine or tsipouro as well. The port and coastline is one filled with colour and pretty imagery, and it is delightful to simply take a stroll along the coast road.
In Platanias, visitors will find a wonderful selection of accommodation including hotels, rooms, studios and apartments to let.
The village is well catered for tourism, and you will find several interesting shops here, as well as a supermarket from which you can purchase any daily supplies you may need.
During the summer season, festivals also take place here. Everyone is invited to join in with these festivities, and they are a unique experience should you be in Platanias during them.
Accommodation in Platanias
Located directly opposite the sea are the Delfinia Rooms, where you will find a great choice of comfortable accommodation.
Image Gallery
Platanias Overview
Distance from: Volos 60km | Lafkos 11km | Argalasti 20km | Volos Airport 107km
Accommodation: Some
Places to Eat: Few
Cafe Bars: Few
Platanias Map
Click on the map image below to load the Google map showing the location of Platanias.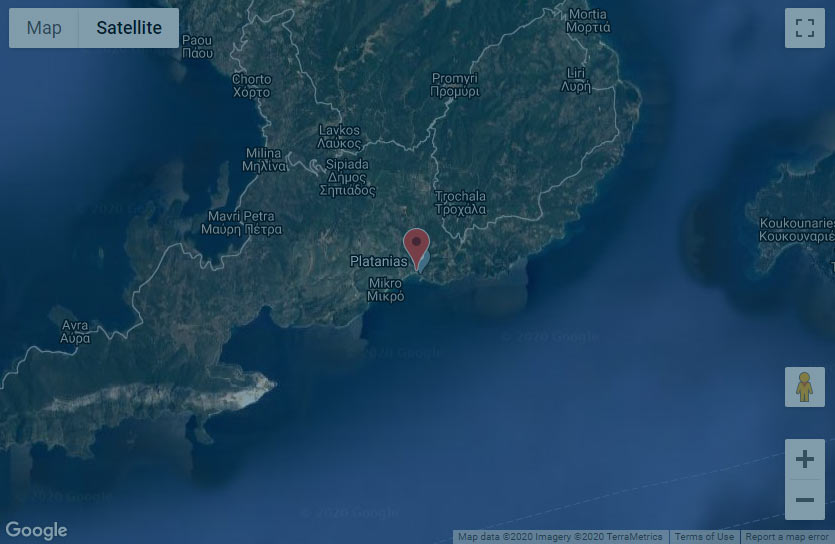 Platanias Useful Telephone Numbers
Platanias - Area Code 24230

Municipality - 24230 65065
Police - 24230 54236
Surgery - 24230 65275
Post Office - 24230 65394
Medical Centre - 24230 54611