Stagiates Village in Pelion
---
This village is 11km from Volos at an altitude of 340m, and is 2km from the main road. During the summer you can enjoy your coffee or drink whilst sitting under the shade of the plain trees in the square. The view of Volos is magnificent.
You must try the local's sausages and vegetables. The village is famous for its spring water. Many people from Volos come her to refill their tanks of water from the water fountain in the village square.
Stagiates was famous throughout the years for the handicrafts that were made here and for the export of its sausages throughout Pelion. It was here that the famous "Strakes" sausages were made for the first time. The village also produces steel, and this market is steadily increasing over time.
At the end of July the "Sausage Festival" takes place, with traditional music and dance, and of course, sausages. There is also a demonstration in this festival of how the sausages are made.
Image Gallery
Stagiates Overview
Distance from: Volos 5km | Portaria 8km | Hania 20km | Volos Airport 38km
Altitude: 140m
Nearest Beach: 10km
Accommodation: Few
Places to Eat: Few
Stagiates Map
Click on the map image below to load the Google map showing the location of Stagiates.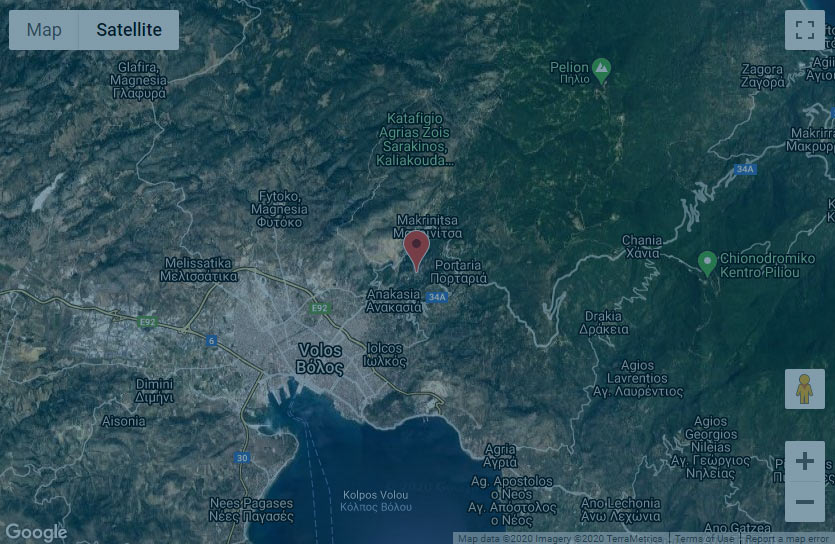 Stagiates Useful Telephone Numbers
Stagiates - Area Code 24280

Municipality - 24280 99128
Police - 24280 99105
Surgery - 24280 99106
Post Office - 24280 99104
Volos Hospital - 24210 27531