Trikeri Palio Island in Pelion
---
This is a small fishing island at the south point of the Pagasitic Gulf. It is 12 nautical miles from Volos. At the top of the hill on the island you can see the monastery of Panagias, which is dated from 1825.
At the side of the island is the church of Agios Yiannis, dated from 1786. Ancient ruins that were found give evidence that the island was occupied during the Mycenae Period.
The beaches on the island are just beautiful, and they invite you for a nice cool swim. The island has daily sea connections, by the "Flying Dolphin Boats" and jets speed boats to Volos, Agia Kyriaki and the North Sporades islands.
If you are driving you can follow the road to Alogoporos, which is situated a little before Trikeri. But first you must call 24230 55210 / 55240 to book a seat for the boat.
Image Gallery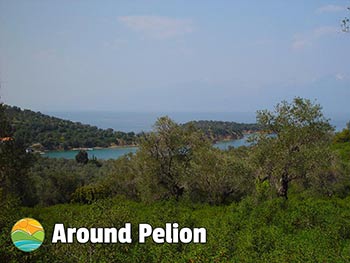 Trikeri Palio Overview
Distance from: Volos 83km | Trikeri 7km | Volos Airport 130km
Accommodation: Few
Trikeri Palio Map
Click on the map image below to load the Google map showing the location of Trikeri Palio.
Trikeri Palio Useful Telephone Numbers
Trikeri Palio - Area Code 24230

Municipality - 24230 91223
Police - 24230 91220
Surgery - 24230 91221
Post Office - 24230 91399
Coast Guard - 24230 91400