Tsagarada Village in Pelion
---
Tsagarada is a stunning mountainous village 54km from Volos and at an altitude of 450m. Tsagarada consists of four smaller towns - Agia Paraskevi, Agia Kiriaki, Agio Stefano and Agioi Taxiarhes.
Tsagarada is built on a green hill on the mountain of Pelion and is one of the most famous all of the villages in Pelion.
It is the perfect place for both summer and winter vacations. Here you will find the famous beaches of Milopotamos and Fakistras. Everywhere you go you will see spring water fountains and small arched bridges.
You must try and visit the square of Agia Paraskevi, and enjoy your drink sitting under the thousand-year-old plain tree. This huge tree has a diameter of 14 meters.
At the square of Agoio Taxiarhes drink from the spring water fountain with its four taps and enjoy your meal sitting in the shade of the plain trees in front of the churchyard.You must also visit if you can the old secret school and the chapel of Panagias of Megalomatas, which is actually built inside a cave.
You can swim at the beach of Fakistra, just 8km from Tsagarada, which is very beautiful, with stunning scenery of green blue crystal water. Another impressive and beautiful beach is the famous Milopotamos, with its golden sand and crystal blue waters and giant rocks. If you walk and follow a small path through the rocks, you will find another smaller but beautiful beach.
Accommodation in Tsagarada
At the beautiful Arnica Montana Hotel in Tsagarada you will find an excellent selection of quality accommodation.
This unique villa located in the famous Pelion of Tsagarada is a very beautiful property built in 2005 on a hill with views of the Aegean.
Entertainment in Tsgarada
DIPNOSOFISTIS WINE BAR
Beautiful wine bar and restaurant in a quiet area of the famous Tsagarada village. Large selection of drinks and cuisine with a friendly atmosphere.
Image Gallery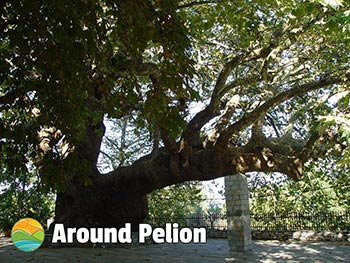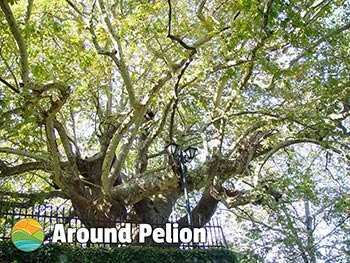 Tsagarada Overview
Distance from: Volos 50km | Mouresi 4km | Agios Ioannis 9km | Volos Airport 82km
Altitude: 450m
Nearest Beach: 7km
Accommodation: Lots
Places to Eat: Lots
Cafe Bars: Lots
Other Facilities: Pharmacy
Tsagarada Map
Click on the map image below to load the Google map showing the location of Tsagarada.
Tsagarada Useful Telephone Numbers
Tsagarada - Area Code 24260

Municipality - 24260 49238
Police - 24260 49222
Surgery - 24260 49208
Post Office - 24260 49215
Medical Centre - 24260 22222