Makrinitsa Village in Pelion
---
Known as the balcony of Pelion, Makrinitsa attracts people from all places and ages for summer and winter holidays. It is 16km from Volos and 3km from Portaria. The village was built on the slope of the mountain where the lower points have an altitude of 350m and the higher 700m.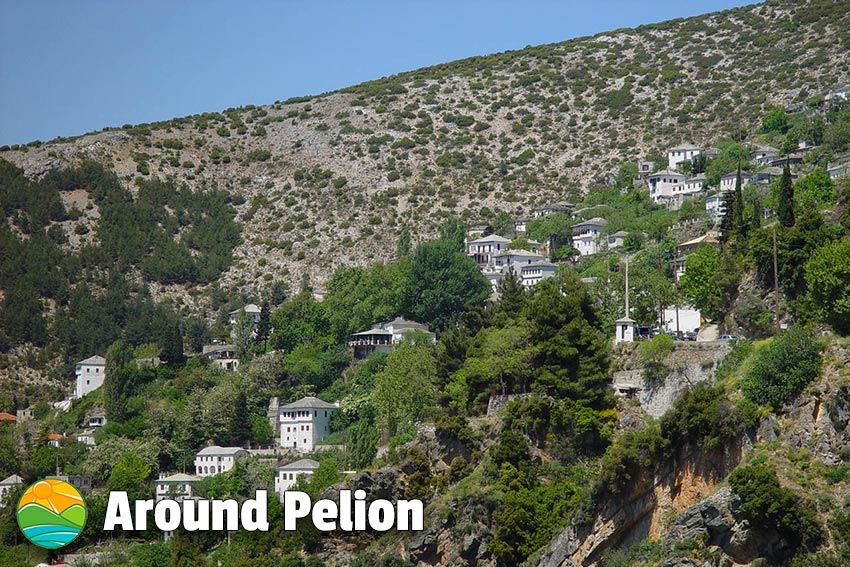 The village was built on the slope of the mountain where the lower points have an altitude of 350m and the higher 700m.
The colour and style have been preserved through the years so the village maintains its original and traditional look. There are many old traditional houses, mansions and cobble-stoned paths for walking. In the main square, the plain trees are centuries old and provide shade and cool from the hot summer sun.
From here, the view is simply majestic. The entire city of Volos is right down below your feet, and it the perfect view to sit back and watch as you enjoy a drink.
If you walk to the back of the church of Agios Yiannis, you can see the frescos from 1910 that were painted by the artist Theofilos. In the "Tapali" mansion, which was built in 1844, you will find the Museum for Art Folklore. The museum has a very impressive collection of household objects, tools, books, clothing, flags and guns. It is open daily from 10.00 until 17.00.
You can visit the interesting churches with many icons and frescos, like the church of Panagias (1767), Agios Athanasios (1792), Agios Nikoloas (1787) and Agios Georgios (1795).
At the village square is the church of Agios Yiannis Prothromos. On the side of this church is the famous old spring fountain with its sculptured lions heads. In the old days, the people used to say that this water made you immortal. The fountain was built in 1809.
During the summer, many festivals take place. In July are the celebrations of "Mays" and "Maithei", which have their roots with the ancient Greek God Dionysos, and they are based on the renaissance of life and nature. You can enjoy dance and music at these festivals.
In the village you will find restaurants, cafes, bars and tavernas. At the Koukourava, which is actually a quarter of the village of Makrinitsa, you can see the medieval castle of Skotiniotis, old water mills and wild vegetation.
You can also visit the church of Agia Magthalini that dates from 1737. Inside you can enjoy the impressive icons and wall paintings. Makrinitsa is a village that you will never forget. It is one of the most beautiful and popular in all of Pelion.
Image Gallery
Makrinitsa Overview
Distance from: Volos 9km | Portaria 3km | Hania 15km | Volos Airport 42km
Altitude: 600m
Nearest Beach: 11km
Accommodation: Lots
Places to Eat: Lots
Cafe Bars: Lots
Makrinitsa Map
Click on the map image below to load the Google map showing the location of Makrinitsa.
Makrinitsa Useful Telephone Numbers
Makrinitsa - Area Code 24280

Community - 24280 99710
Police - 24280 99105
Surgery - 24280 99106
Tourist Police - 24210 72421
Post Office - 24280 99104