Travelling around the Pelion peninsula
---
Remember that there are many animals that can wander into the road, when you are driving around Pelion, so please take care, especially on bends or corners, when you may not be able to see what is in front of you.
In the coastal village of Mikro, there is a sea-taxi service, that takes passengers on a short trip to the neighbouring village of Platanias. Getting to Platanias by car from Mikro is a journey of about 30 minutes.
Visitors can walk to Platanias from Mikro, by passing over some rocky outlets, and this is probably best avoided if you are with young children. However, the sea-taxi makes it a breeze to pop over to Platanias, if you would like to visit there.
Also, please remember not to throw any cigerettes or matches out of your car window if you are a smoker. During the hot summer months, this can cause huge fires, and these can spread very quickly. Please dispose of cigerettes and matches carefully and with consideration.
During the winter months, when there has been heavy snowfalls, some parts of Pelion may become inaccessible, and some roads may be totally closed off. The use of snow chains on your tyres during the snowy period is highly recommended.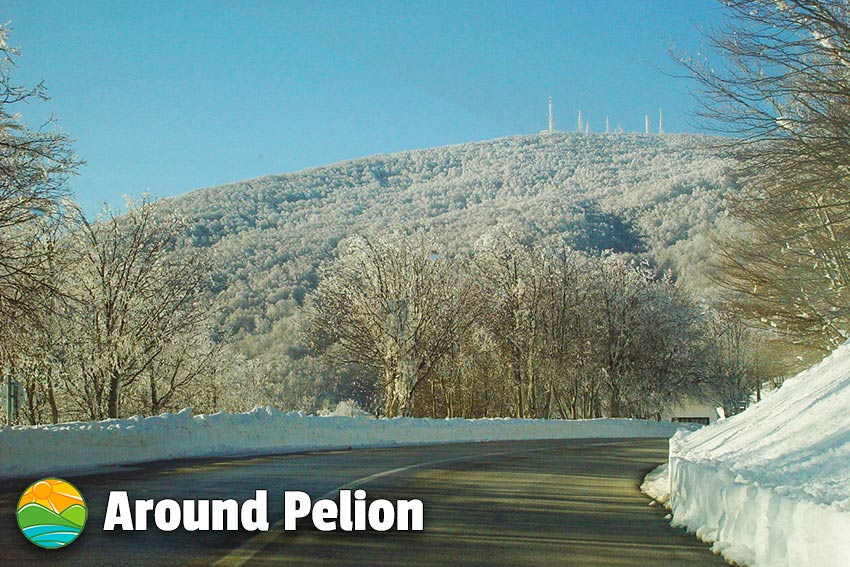 It is also wise to have a first aid kit in your vehicle with you, as well as a torch. If you are hiring a car, make sure that there is a spare tyre in case you need one, as well as the necessary tools and jack to change the tyre.
There are bus services that do operate around the villages, but these are very limited. If you do plan to use the bus service, then you should make sure you know the departure point for the buses as well as their timetables.
There is so much to see in Pelion, that it would be a real shame if you do not venture out and take in some of the unique and inspiring sights and landscape that you will find all around.
The Pelion peninsula has so much beauty to offer that no photograph can do justice to the inspiring and unique scenery that you will find on every corner.