Horto Village in Pelion
---
Horto, is a village by the sea and is just 3km from Milina and Argalasti, and 46km from Volos. It is a village with immense natural beauty and is built within large olive groves, which go all the way to the beach.
Very near to Horto is the mountainous village of Lafkos, making Horto an ideal destination in Pelion where you the chance to enjoy holidays near the mountain and the sea, in a harmonious combination.
Horto is a beautiful village which is evident by the calm and tranquil scenery. It is an ideal accommodation base as it provides easy access to Pelion's sites and villages.
It has modern facilities offering modern comforts and combines perfectly with the traditional and natural elements that Pelion is famous for. Here you will enjoy peace and tranquility, as well as adventure and activities such as trekking, cycling, swimming, water sports, and many other activities organized by professionals.
The village of Horto has magnificent beaches with clear waters. There are many paths that pass through the village and lead to open areas or spots with beautiful views.
The houses and accommodation facilities here in Horto follow the Pelion architectural styles, which is in complete harmony with the natural environment and enhances its beauty. This is why the image of this village is magical, as the stone combined with the wood provides a touch of the nostalgia as well as beautiful aesthetics.
Horto is fully organized with regards to the tourism industry, yet maintains it's natural and traditional beauty. Holidays in Horto promise tranquility and peace, interesting activities close the nature, tsipouro and sea food and mezes by the sea. Visitors can enjoy a carefree and pampered feeling, away from the the noise and stress of everyday city life.
In Horto there are plenty of traditional mansions, many of them are fully renovated and operating as guest houses. One of them is the Aggelinis mansion which operates as museum. In the Aggelinis museum, you will see a big collection of household objects, old tools from the everyday life of past years, traditional suites and old books and relics.
You can go swimming at one of the many sandy and clean beaches that surround the village. In August, many festivals and local celebrations also take place here.
Horto is a wonderful destination for those who are seeking very peaceful and relaxing holidays. With the lovely coast, and easy access to neighbouring regions of Pelion, it is one of the most beautiful and tranquil you will find.
Accommodation in Horto
A beautiful range of fully furnished comfortable rooms and apartments, right by the sea, in the lovely coastal town of Horto.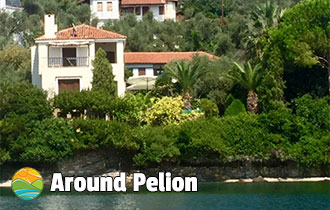 A lovely apartment available in a prime location situated right next to the sea in Horto, which operates from May through to October.
A charming selection of comfortable studio apartments, all equipped and furnished, with swimming pool in the village of Horto.
At Irene Villa you will be able to enjoy a beautiful holiday in Pelion in your own fully equipped and furnished villa in a very peaceful and relaxing location.
Just meters from the sea, you will find a beautiful selection of comfortable and fully furnished studios available between April and October.
A wonderful selection of apartments that are very comfortable and cosy, and are located in the picturesque coastal town of Horto.
In two lovely locations in the coastal town of Horto, you will find a great selection of rooms and studios available.
Situated just 100 meters from the beach in the beautiful resort of Horto is Stamouli Artemis Rooms, offering an excellent selection of accommodation.
Image Gallery
Horto Overview
Distance from: Volos 46km | Milina 3km | Argalasti 6km | Volos Airport 93km
Accommodation: Lots
Places to Eat: Few
Cafe Bars: Few
Horto Useful Telephone Numbers
Horto - Area Code 24230

Municipality - 24230 54219
Police - 24230 54236
Post Office - 24230 54252
Tourist Police - 24210 72421
Medical Centre - 24230 54611