Kalamos Village in Pelion
---
Kalamos is a small village by the sea, 6km from Argalasti and 46km from Volos. Travellers and locals all look forward to the annual festival of Agia Paraskevi, which takes place on July 25th. You can enjoy traditional music and dance here.
Kalamos is an ideal place for a quiet and peaceful vacation, far from the stresses of the city. If you follow the beach road, you will be taken through olive groves and end up in Lefokastro.
If you continue driving, you will pass through the beautiful picturesque scenery and will end up in Afissos.
Horto is a wonderful destination for those who are seeking very peaceful and relaxing holidays. With the lovely coast, and easy access to neighbouring regions of Pelion, it is one of the most beautiful and tranquil you will find.
Accommodation in Kalamos
This charming hotel complex in the village of Kalamos, close to the sea, offers a great choice of comfortable accommodation.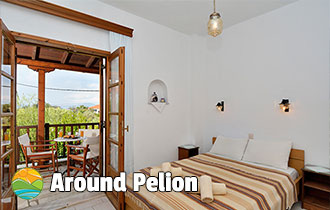 A charming selection of comfortable rooms and studios, furnished and very comfortable, situated in a peaceful part of Kalamos.
Image Gallery
Kalamos Overview
Distance from: Volos 36km | Argalasti 6km | Lefokastro 7km | Volos Airport 72km
Accommodation: Some
Places to Eat: Few
Kalamos Useful Telephone Numbers
Kalamos - Area Code 24230

Municipality - 24230 54219
Police - 24230 54236
Post Office - 24230 54219
Medical Centre - 24230 54611