Pelion Attractions
Archaeological Sites
Dimini Archaeological Site
---
The site of Dimini, located approximately 15km from Volos, is a unique site that has provided the most complete picture of a Neolithic settlement. The site was initially known for the remains of a Neolithic settlement on top of a hill there. Pottery found at the site dated from the Late Neolithic period.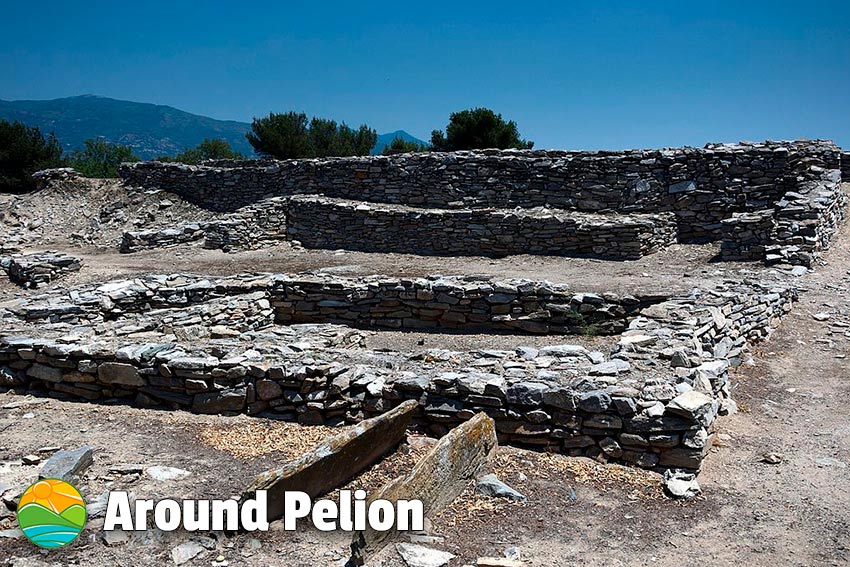 After many years of continuous work and excavations, a very important Mycenaean settlement was discovered, and was later identified as ancient Iolkos, the city of Jason. The excavation of the Mycenaean settlement began in 1980 by V.Adrymi-Sismani, and is still being carried out today.
Some of the highlights of this site include the well-organized Late Neolithic settlement, the Mycenaean tomb, attributed to the Kings of the Mycenaean settlement, and many other unique and interesting finds.
The Dimini Archaeological site is open daily from Tuesday to Sunday, but is closed on Mondays. Please call ( +30 ) 24210 85690 for further information if you are planning to visit the Dimini Archaeological site.
The above image of Dimini is by Kritheus and is provided under the Creative Commons Attribution-Share Alike 4.0 International license
Location of the Archaeological Site of Dimini
Click on the map image below to load the Google map showing the location of Dimini.